As a freelance writer, I would find it nearly impossible to work without a host of apps and websites that help keep me organized, productive, and creative.
If you're a creative entrepreneur, have a look at these sites and apps I use in my own business, and with clients. The best part – most of them are free!
Note: This blog post was updated September 17, 2020
Productivity, Organization & Collaboration
Evernote – I've used Evernote in the past to organize notes, thoughts, and ideas. You can also collaborate with others in Evernote by sharing notebooks. If you're the type of creative who likes to handwrite notes or draw things out, Moleskine makes special Evernote Smart notebooks where you can upload your physical notes to your Evernote account.
Dropbox – My laptop's hard drive loves Dropbox. It's ideal for when I need to share a large file with a client or store files that we work on together, long-term. I also like that you can customize which folders or files you sync to your desktop, so your computer won't get bogged down.
Google Drive – Another good site for collaborating with clients, and working together on documents and spreadsheets.
SelfControl – I use this Mac app when I'm working on my personal writing projects. Basically, it blocks me from viewing websites I choose, for a specified amount of time. Other writers can probably relate to the fine line between research and "research" – so this is a very useful app!
Scrivener – A lot of writers love Scrivener, myself included. I use it for all my novels. In Scrivener I can organize my notes, create folders, and visually plan novel scenes with a virtual corkboard.
Creativity
Later – I use Later to schedule and visually plan my Instagram posts. I know people are of two minds about Instagram spontaneity, but I like to plan my posts. There's something soothing about planning my grid based on a visual mood. Often, it gives me an idea for a conversation-starting caption, or makes me think of a subject I haven't photographed in a while. Plus, on Later's web version, I can type captions on a regular keyboard. It's way more comfortable.
Pinterest – I never thought Pinterest would be useful for novel research, but it really is!  My first novel was literary sci-fi, and the one I'm writing now is sci-fi/fantasy, and I used Pinterest a lot to help me find inspiration for things like setting, themes, and visual elements of my characters. I love being able to use a visual reference as a starting point for a description I'm writing.
Canva – For those who aren't graphic designers and need a quick graphic for a YouTube thumbnail, Instagram post, or social media image, Canva's a good option. I've used it for all of the above, and I like that it's easy to use and has templates that actually look good. That's almost impossible for free apps! (To see what I mean, check out my post 6 quotes to inspire your creativity – I used Canva to create templates for each quote, and it took barely any time at all!)
Unsplash – If I'm writing a blog post for myself (like this one!) or an article for a client who doesn't have a budget for stock photos, I like Unsplash. It's free, but there are loads of high-quality photos there that don't scream "I am a free stock photo."
Just look at what I mean!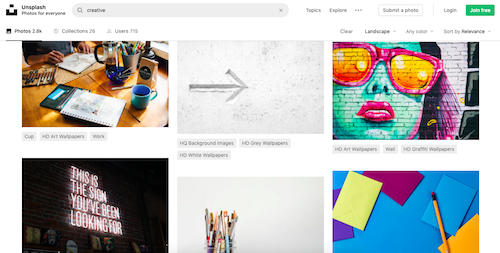 Business
FreshBooks and Wave – Invoicing and accounting software that's ideal for freelancers and small business owners.
Slack – Great for having discussions with one or more clients in message-style, or with a phone call. I have a few Slack channels that I'm part of with clients, and  I can have conversations with one person or different groups.
Clockify – I use this to track my time and project work.
What websites and apps help you run your creative business? Let me know if you have any you'd like to add!